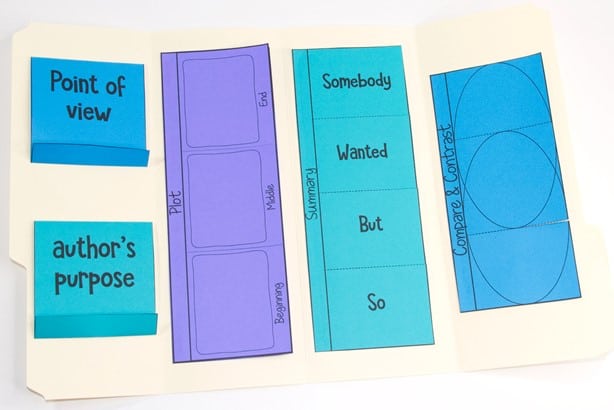 Have you ever looked for supplemental activities for a story but couldn't find what you were looking for? This happens to me a lot! You should use templates to make your own lapbook. It's easy! Lapbooks can be a fun way to add excitement to your curriculum any time of year.
Why Use Lapbook Templates?
The folded notes used in the lapbook are easy for students to make on their own. My third graders always picked up on this skill quickly. However, I like to use the templates to save on time and frustration. I want my students to be responsible for their own note taking, but I also know to minimize the note-taking burden for my young learners. I preprint my folded notes with important information to minimize what my students are accountable for writing. If you want to save yourself time, you can get my lapbook templates here.
How I Use Lapbook Templates in Reading
December can be a very exciting time of the year. I want to make learning fun during this exciting time, but I really need to review important reading skills.
I like to have my students read How the Grinch Stole Christmas. It's a story my students enjoy and there are many reading skills that we can review. The kids have fun, but it is still very educational. By creating this lapbook right before the holidays, I'm able to channel some their exuberance into something productive.
We don't always have time to create lapbooks for the books we are reading. Sometimes we take notes and add them to our reading journals. I re-purpose my templates for these notes to save myself time.
How I Use Lapbook Templates in Social Studies
When I first started teaching the U.S. Constitution I had NO materials that would be appropriate for third graders. I searched and searched and could NOT find any resources either! Since I already had templates created, it was super easy to adapt them for Social Studies. Using the lapbook to teach about the Constitution was a life saver! You can read more about it here.
How I Use Lapbook Templates in Math
I want to make a lapbook for math, but I haven't yet. Usually, the notes we take in math go into our interactive math journals. Once you make the templates, it is very easy to customize them for each of your math topics. The coin flaps in the picture can be found as a free download in my TpT store.
Money Saving Tip
Traditionally, most teachers make lapbooks from manila file folders. File folders are great because they are sturdy and easy to work with. If you're having to buy your own supplies ?, you can save money by using 9″ x 12″ construction paper instead. By using construction paper, you can make the lapbooks bright and colorful.
Make Your Own
Lapbook templates are easy to create using the shapes tool in PowerPoint. However, I have saved my template files so that you could use them for any of your favorite units. You can find them here. Use them to add spark to your basal stories or use them in any subject to add notes to your interactive journals.